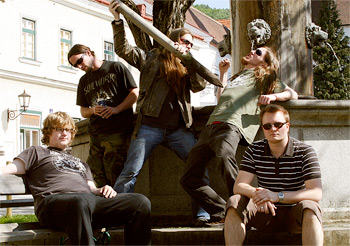 Der Frühling steht in den Startlöchern und die Livesaison 2010 vor der Tür! Nach den letzten leider eher ruhigen Jahren um LACK OF PURITY gibt's jetzt wieder einige rockende Neuigkeiten, die hier gesammelt zu finden sind.
Nebenbei muss natürlich noch erwähnt werden, dass unser aktuelles Album "GOT PRESSURE?" noch immer GRATIS zum Download bereit steht:
[MP3 Album] – [WAVE Album] – [Album Artwork].
Next Live Gigs:
[08.05.2010 @ Escape Vienna] – [04.06.2010 @ Hammerwerk Festival Ybbsitz, NÖ]
Rock on!
1 – "Precursors of Eternity" Festival (2006) Videos online!
Über 30 Minuten Livematerial des grandiosen Auftritts aus 2006 sind ab sofort auf YouTube zu sehen! Das macht die richtige Stimmung für die kommende Live-Saison!
Part 1 | Part 2 | Part 3 | Part 4 – [LACK OF PURITY PLAYLIST]
2 – Offizielles, neues BANDLOGO!

Wir haben ein neues, offizielles BANDLOGO! Lange haben wir gesucht, gefeilt und experimentiert, und sind nun stolz, das neue Logo der Öffentlichkeit präsentieren zu können:
Download:
Logo1 | Logo 2 | Logo 3
3 – The Time, The Place, The Sinner – NEW MUSIC VIDEO!
LACK OF PURITY haben ein neues, offizielles MUSIC VIDEO (in HD!)! Das letzte halbe Jahr haben wir in Zusammenarbeit mit der FH St. Pölten unter strengster Geheimhaltung an dem Teil gearbeitet, und freuen uns, es nun endlich öffentlich machen zu können! Wir haben den Song "The Time, The Place, The Sinner", der im Original auf unserem 2003er Demo "Can't Turn Back Time" zu hören ist, neu recordet, und ein fesches Video dazu produziert.
Have Fun & ROCK ON!!
Official Music Video "The Time, The Place, The Sinner" @ YouTube

–> Download the MP3 Song FOR FREE! <–